Following two editions that were held online due to the health crisis, Balkan Trafik's festival producer and programmer Nicolas Wieërs wanted to pull out all the stops with the 2022 edition to be held from 28th April to 1st May at Place de Brouckère and Grand Place in Brussels and at Namur's Delta centre.
Balkan Trafik! is not just a music festival. It certainly looks like one, and has many of the associated characteristics, but Balkan Trafik has always been a platform for communicating through the arts, and with this in mind, the digital format that the two previous editions took was much more than a fallback solution; on the contrary, it's enabled us to add a very valuable string to our bow. 

Nicolas Wieërs, Balkan Trafik! organiser
The bill for the 2022 edition currently includes Balkan stars like Goran Bregović, who will be bringing us the highlights of his career, the best-known brass bands of Serbia and Northern Macedonia, the gypsy punk of the Bohemians Betyars, the Taraf of Viorica și Ioniță de la Clejani & their guests, up-tempo rock from the founder of the No Smoking Orchestra and singer Amparo Sánchez of Amparanoïa, among others.
Then, of course, there are the Balkan Trafik creations, including Balkan Jazzović bringing back traditional sounds with a jazz, disco and funk groove, and the kings of weddings and funerals join together to bring us The Last Original Balkan All Stars – 35 living gods all taking to the stage, providing a unique opportunity to see, hear and party to the beat. There will also be a stage dedicated to the new generation of 'Roma' jazz, with a scintillating encounter between 24 young Serbian, French and Belgian musicians.
Closing the festival will be the 10th edition of the Giant Horo, bringing together traditional groups from all over the Balkans to perform a big dance that will take place, as it does every year, on the Grand Place in Brussels (free of charge), a symbolic and emotional moment in which all of the communities involved join hands and dance together.
We've developed various strategies for 2022 to give us the best possible chance of organising a 'real' festival with an audience, with a real human touch, with smiles and with plenty of opportunities to share our experiences

Nicolas Wieërs, Balkan Trafik! organiser
2.

Building bridges between cultures and young people
More than just a festival, Balkan Trafik also serves as a platform for encouraging the cultural exchange of young artists between Brussels, as a European capital, and the Western Balkans.
An extraordinary project involving eight young Belgian artists, eight young Serbian artists (from Niš, southern Serbia), and eight young French artists (from the south, on the Spanish border) will also feature on the 2022 programme. All of them have Roma, Gypsy or Manouche cultural roots and play Djangho Reinhardt-style, Catalan rumba and Roma jazz. They will undertake three residential cultural exchanges and will have the opportunity to perform on the international stages of the three partner festivals, namely Balkan Trafik (Brussels), Welcome in Tziganie (France) and the Nissville Jazz Festival (Serbia).
The aim is to help this new generation of young artists to create, to meet, to travel, to learn and to gain first hand "international experience", as well as presenting them with new opportunities. having been stopped in their tracks as they were owing to the health crisis.
Keen to guarantee the success of the project, Balkan Trafik has established a partnership with two other international festivals, namely Welcome in Tziganie (France) and the Nissville Jazz Festival (Serbia), with the support of the European Commission – Creative Europe.
3. A new mural in Brussels
The Balkan Trafik festival has been inviting graffiti artists from the Balkan region to showcase their creativity on the walls of the capital for a number of years now. This new urban generation from the Balkans is currently experiencing an exciting intellectual, social, cultural and aesthetic transformation that is giving rise to a whole host of collective identities and representations.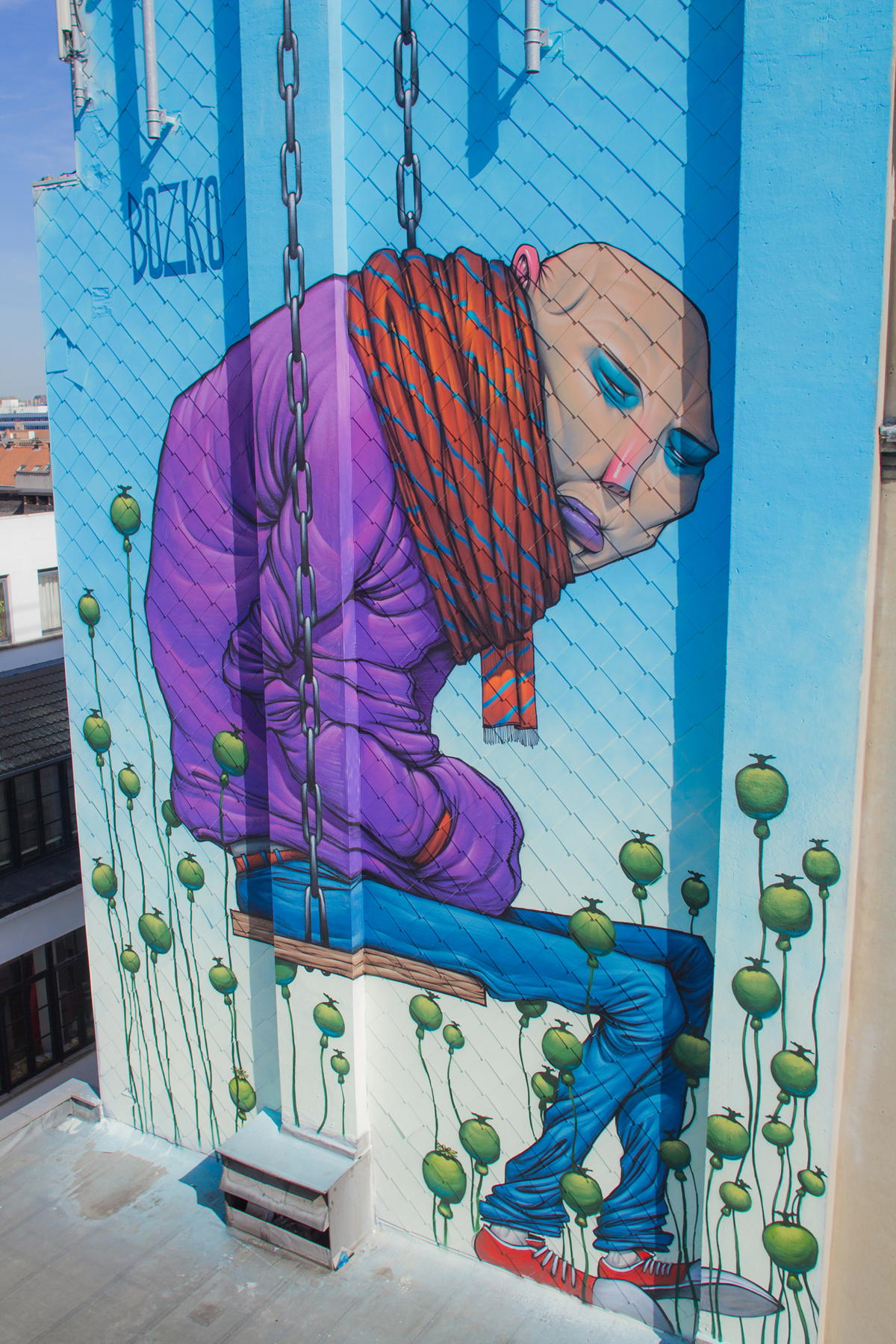 Four murals have already been created by artists from Bulgaria, Bosnia-Herzegovina, Serbia and Croatia as part of the city of Brussels' PARCOURS Street Art route (Department of Culture), with the work of an Albanian artist set to be showcased in 2022.