For centuries, carpets have been a staple of Azerbaijani culture, being used in everyday life as more than mere décor and playing an integral part in celebrations and ceremonies. Inscribed on UNESCO's Representative List of the Intangible Cultural Heritage of Humanity in 2010, Azerbaijan's traditional art of carpet weaving lives on through the descendants of master weavers who passed down their techniques and specific motifs through generations.
To showcase the ancient craft o carpet weaving, how it has evolved over the centuries and how it lives on today, Azərxalça (Azerkhalcha – translating to Azercarpet, from "xalça" / "khalcha" meaning "carpet" in Azerbaijani) brought their travelling exhibition "Magic Flying Carpets" to Brussels, displaying it at the Frison Horta Foundation, one of renowned art nouveau architect Victor Horta's townhouses. The exhibition, facilitated by the Embassy of Azerbaijan in Belgium and State Agency of Azerbaijan Export, Azpromo, was launched on 6 November and will be on display until 6 December, masterfully bridging east and west cultures by setting the craftsmanship of the carpets against the art nouveau background.
Founded on 5 May 2016, Azerkhalcha is committed to driving the production, export and promotion of carpets and carpet products, while preserving and evolving Azerbaijan's carpet weaving traditions. "Our mission as a company is to make sure the carpet does not become just history", Azerkhalcha Director Emin Mammadov explained at the opening of the exhibition. Which is why the company collaborates with contemporary artists and designers to create limited edition pieces, thus ensuring the art and traditions of weaving live on.
Employing only female artisans, 85% coming from rural areas, one of the Azerkhalcha's missions is also to aid the introduction and inclusion of rural women in modern society. The company has 14 studios across the country, thus ensuring the carpets it produces showcase the diversity of the regional schools of carpet weavers – Tabriz, Baku, Shirvan, Guba, Karabakh, Ganja and Gazakh.
Carpets are part of the historical heritage of Azerbaijan and I'm very glad that here you can see not only different patterns, but different elements of our art relating to different historical periods of Azerbaijan.

H.E. Vaqif Sadiqov, Ambassador of Azerbaijan to Belgium
Each school of carpet weaving in Azerbaijan has its own technics and characteristic motifs. While to the untrained eye some of the differences may not be that obvious, carpet experts can not only tell which region or century a carpet was made in just by analysing its pattern colour scheme, but they can often also tell the exact family who made the carpet or even if the woman who weaved it was old or young.
1.

Tabriz
Tabriz is the oldest and most famous carpet school in Azerbaijan, its carpets being notable for the variety of their floral ornamental motifs, which symbolise and glorify the forces of nature and fertility. Most Tabriz carpets bear a central field motif representing the tree of life. The Tabriz school covers the Tabriz as well as Ardabil regions.
2.

Baku
Carpets of the Baku school, sometimes called Absheron, after the Absheron Peninsula the capital is situated in, feature softness and intense colours in combination with original geometric patterns and plant motifs: palmettes, stems and leaves. They are patterned with medallions of various shapes and sometimes ornated with rhombuses with hooks.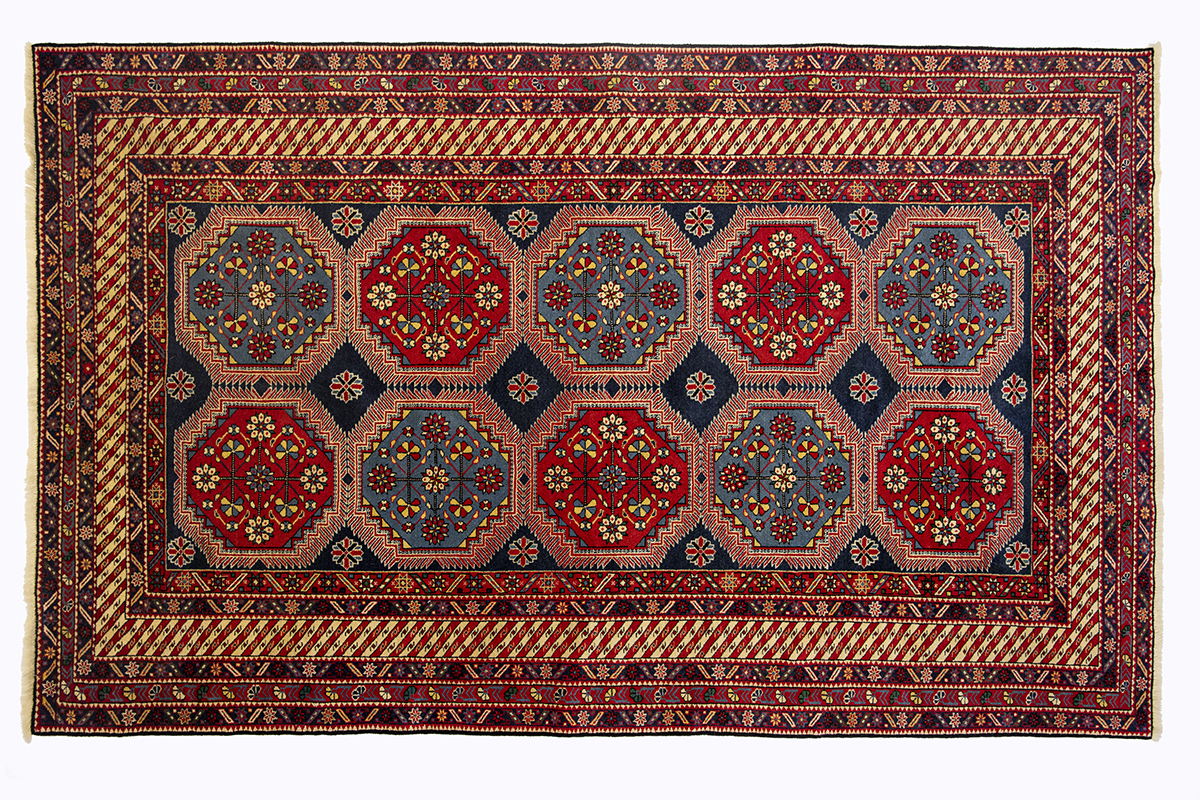 3.

Shirvan
Shirvan carpets are characterized by special symbolic representations that have evolved over thousands of years and are closely associated with concepts and images of folk legends (hunting) and butas (almond or pinecone shaped motifs with sharp-curved upper ends). Some pictorial scenes on Shirvan carpets are identical to the petroglyphs found at the Gobustan Cultural Reserve.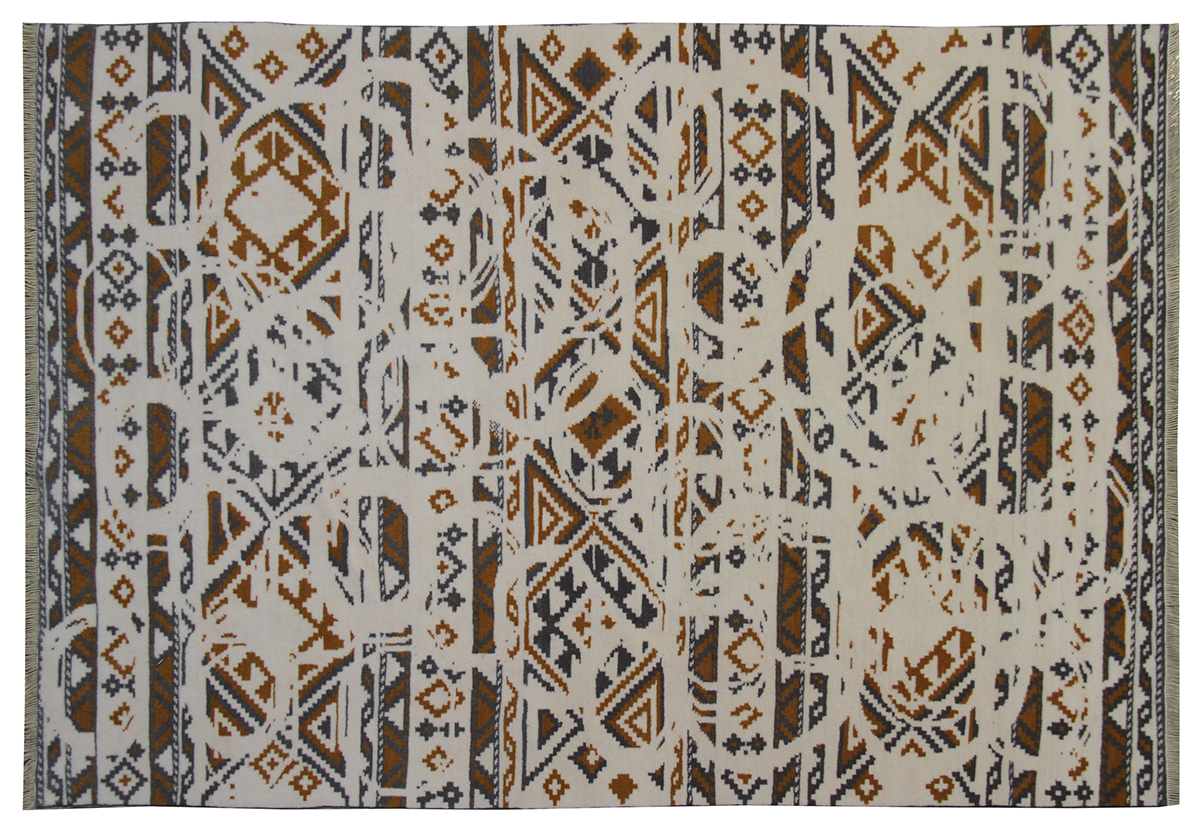 4.

Guba
Guba carpets usually feature patterns with intricate medallions arranged along the entire length of the carpet. Various motifs and geometric patterns enrich the borders surrounding the main field, leaving very little space unfilled.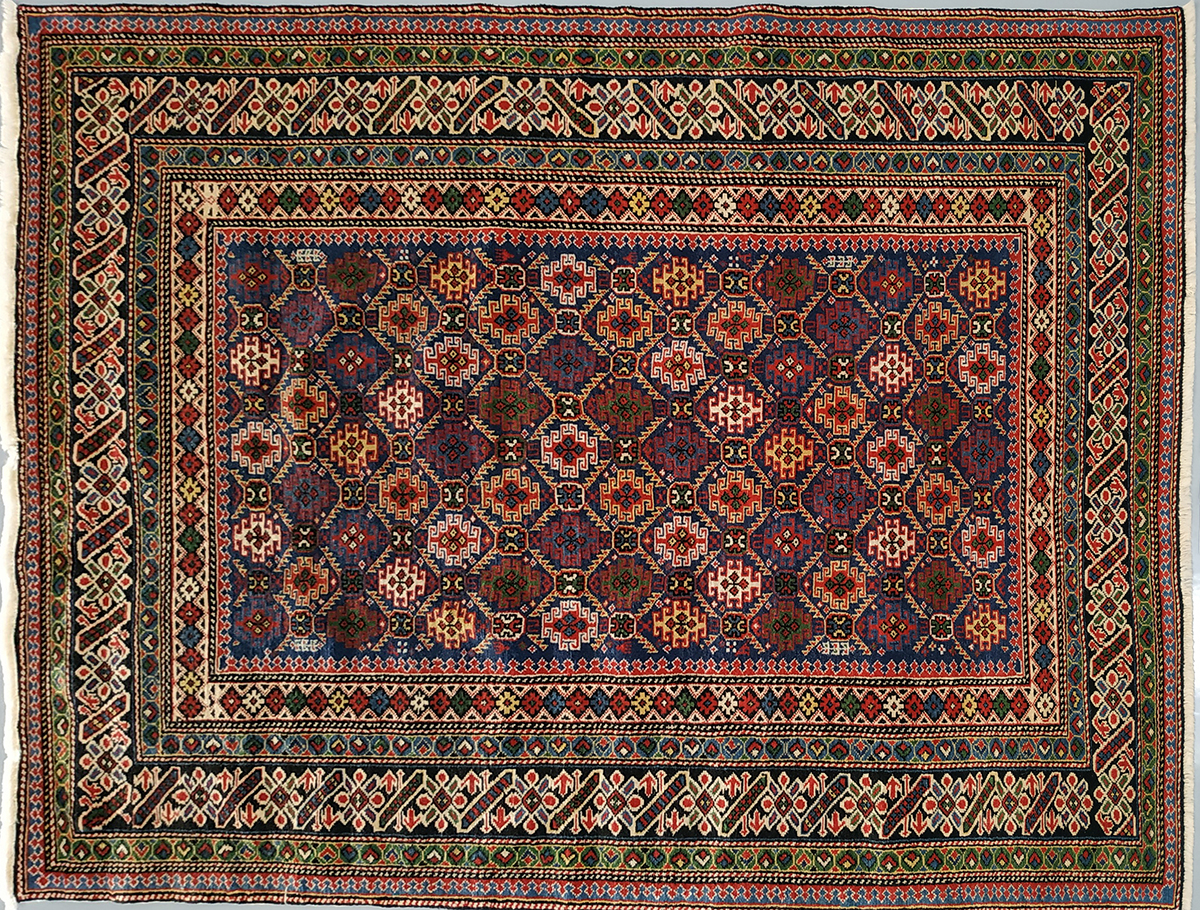 5.

Karabakh
Karabakh carpets depict a variety of motifs and designs, including medallion, pictorial and ornamental carpets. The Karabakh school covers the Karabakh, Shusha and Jabraayil regions.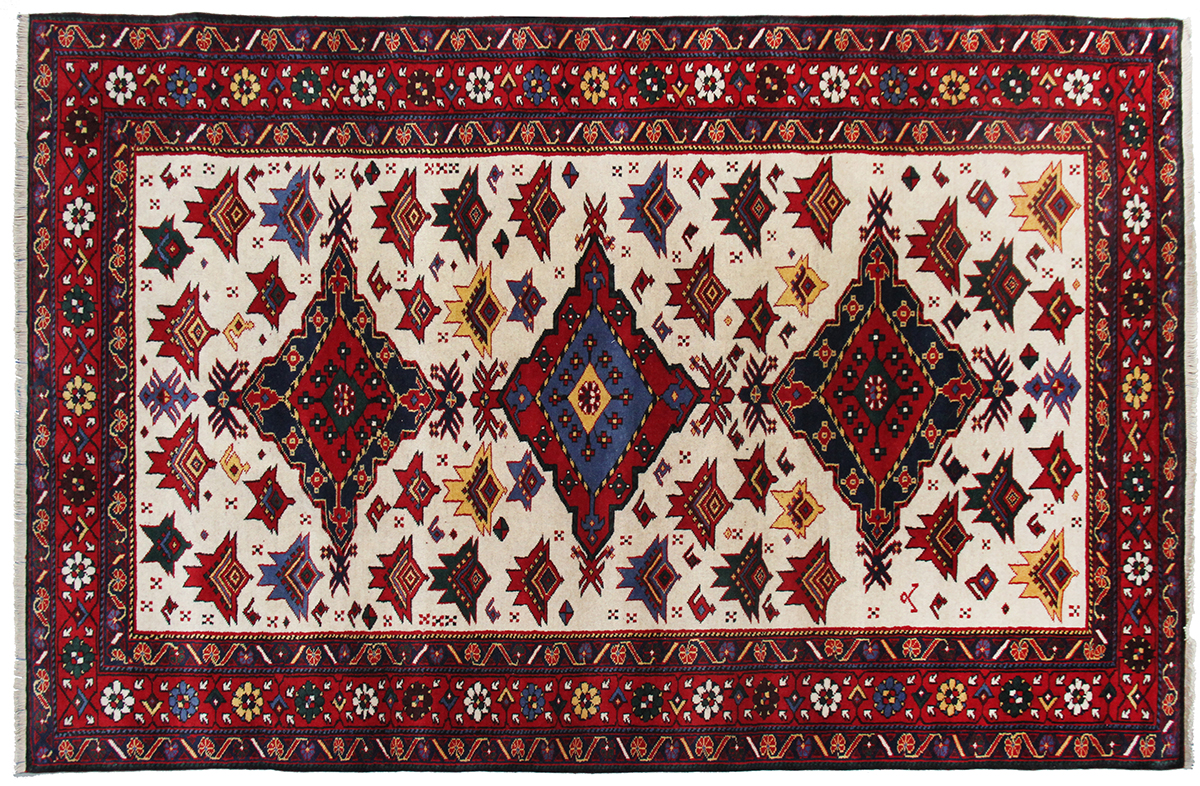 6.

Ganja
Carpets of the Ganja school are characterised by elongated shapes, high pile symmetrical knots and warp weaving. The carpets' colour schemes are bright and saturated, commonly featuring shades of blue, red, green, yellow, beige, black and brown.
7.

Gazakh
Gazakh carpets' colour schemes diverge from other schools, using brighter colours obtained from natural dyes. Generally featuring bright red, blue and dark blue, the contrast between the colour patterns demonstrates superior skill.